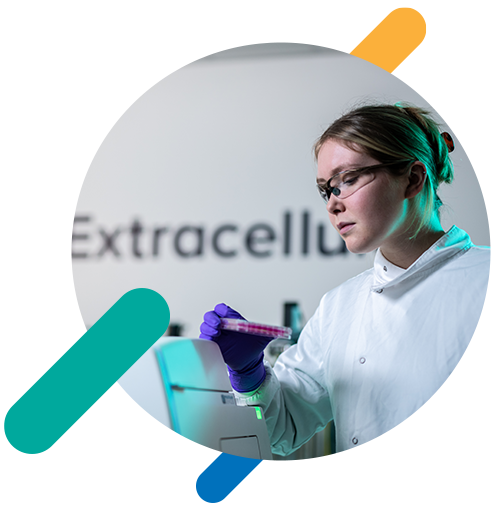 We scale
cultivated

meat

Extracellular is the first dedicated manufacturing partners supporting cultivated meat.

We provide skilled people, innovative processes, and the right environment to help you overcome barriers and accelerate time to market.

Our services are designed to support development, manufacturing, and commercialisation at all stages of cellular agriculture.
Our Capabilities
We develop tailor-made biomanufacturing processes for cultivated meat using best-in-class equipment to reach new possibilities. Whether it is adherent or suspension cells, primary or pluripotent stem cells, we have the know-how to scale production.
Optimised cell culture media is essential for effective cell growth at a low cost. We're here to help accelerate your media development, with capabilities to screen thousands of formulations and produce quantities for larger scale-up runs.
Kilograms of cultivated meat are required to begin developing great consumer products. We can help you get the biomass needed to start your product formulation early, using bioreactors capable of operating at hundreds of litres.
Nurturing
Partnerships
We work with many strategic partners, industrial clients, and organisations in the cultivated meat space and beyond. Join us in creating a more sustainable, environmentally responsible future for the planet with cultivated meat.
Latest
Insights
Discover the latest news, updates and insights from our experts.
Contact us today.
Whether you're enquiring about possible partnerships, or interested in learning more about how Extracellular can help your enterprise, get in touch with us below to learn more.
Current

Vacancies
At Extracellular, we are not only good at what we do, but we're proud of how we get things done and the role we play in helping good people do good things.